About Us & Our Wood Fired Oven.
What can it do?
Wood fired ovens are so versatile, with so many different foods that can be cooked, we really do need to chat through your ideas, please give us a ring.

Yes we can do pizza….and not just your plain old Margarita (even that cooked in this type of oven invariably gets a …WOW response!) but there are so many more options. 
Wherever possible we use fresh ingredients and add our own 'twist'. You can then watch the pizzabase be created, topped, cooked and served, all in less than five minutes, WOW!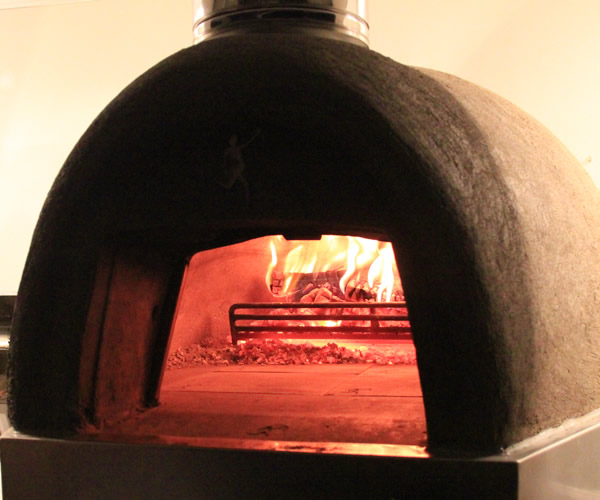 Here are Just a few ideas, to get you thinking…

 Roasted red pepper & goats cheese combine to create a pleasurable mouthful….the watercress and rocket added after cooking add 'WOW' to the whole eating experience.​

 A sweet potato number – this has to be tried to be believed. A clue to the rest of the ingredients is that we finish it off with fresh coriander leaves!

 Traditional flavours e.g. Rustica (Artichoke hearts), Capricciossa (Olives, ham and mushrooms), Pepperoni (need I say more?)
Pizzas with cheese or without cheese, with a tomato base or without….call us.
How long does it take ?
A wood fired oven can cook in a number of ways. The oven can be up to temperature within 60 minutes depending on what is required.
Generally we would like to be with you two hours before you want us to serve.
Pizza needs a hot floor and flames 'rolling' over the oven roof to give you a fantastic 'crunch' and ensure your food is cooked NOT incinerated! We can cook our traditional Neapolitan style pizza in just over a minute due to the heat of the oven floor and air temperature.
What we need & what we bring.
We provide water (but may need more dependent on event) and can provide electricity via a super silent generator BUT we prefer to 'hook up' to mains electric whenever possible. (Power is solely for the fridge, water pump and lights.)
Access. The trailer is 12′ long and 4'6″ wide, very manoeuverable but we need to be more or less on level ground.
We provide trained and certified staff and disposable plates, napkins and bins (unless you request a more formal eating style which we are happy to discuss.)
We can provide covered area options e.g. gazebo and canopy (but have contacts with a number of Marquee companies locally if a larger area is required.)
We can set up outside a wedding marquee for that late night 'supper' and no one need know we are there until you are ready 'WOW'!
At a smaller private event we can provide canapes while the oven is heating.
The Geeky bit!
A Wood Fired Oven mounted onto a trailer needs to have been built in a very special way.
The reinforcing, refractory and building of our type of oven has been developed over ten years by craftsmen here in England. (I have a fixed oven at my home and have been using it for years,
I KNOW what this type of oven is capable of. I will be happy to give you details of the man who makes them.)
We only use reliably sourced hardwood, which invariably is from a local supplier. Due to the design of this oven it has DEFRA approval and complies with the UK Regulations for Smoke Control.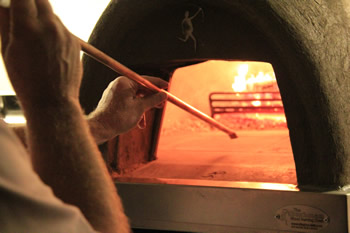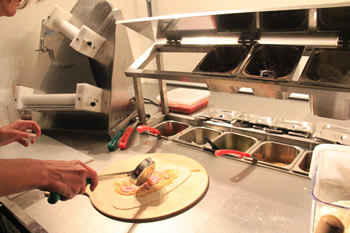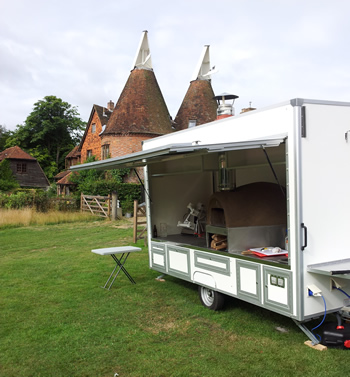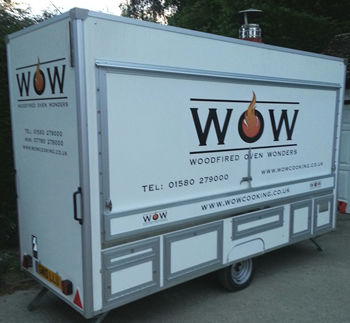 Thank you so much for catering our wedding.
We've had so much excellent feedback from our guests - it's safe to say everyone loved your pizzas! Not only was the food great, but you've been a delight to liaise with from start to finish, and you and Bonny delivered incredible service on a very busy evening.
My only regret is I didn't have room for one of the surprise mini yorkshire puddings and golden syrup...something I'll have to try at home!
Wishing you both all the best, and if we ever need an event catered for we'll be sure to let you know. Kind regards,
Grant offers a fantastic service from beginning to end. He was always quick to respond to my many emails. He was always able to adapt to requirements.
The pizzas were the best we have ever had including the gluten free. The kids loved watching the pizzas going in the pizza oven! The sweet pizzas were such an amazing bonus which went down a storm. It was brilliant to not to have to worry about providing anything or cleaning up after as it was all taken care of. We are already planning on having Grant back. Cannot recommend WOW enough!
Thank you so much!!
You did an absolutely first class job for our party today - hugely grateful.
Great pizza, great service, great concept - well done.
Rest assured we will do our utmost to spread the word of the joy of WOW cooking.

Kind regards
Tim
Right from the start Grant was very good at replying to me and came round to our house to see the garden and location for the wagon. He was so helpful and on the night the food and service was amazing, our guests loved it!
We had a great night and everyone talked about the wonderful pizza!
'Wow Pizza was a perfect addition to our Summer fete, the feedback was fantastic'
A huge great big thank you for the hard work you put into making our naming ceremony such a special and memorable day. The pizza was absolutely delicious as were the starters (my favourite was the prawn and chorizio) and the children loved the kiddy food. You put so much thought into the event from going through the menu with us back in June to installing the wagon last Thursday - what an achievement that was!
All in all, it was a great success and as my Dad put it "Wow cooking - what a great find"!
Just wanted to pass on a massive thank you from us for Saturday!
What a night! We've had everybody telling us how great your pizzas were and there was next to nothing left at the end of the night - that just goes to show how much everybody loved it! I went on the hunt for the sausage pizza (I was too late to get a slice from you once I'd left the dance floor!) and managed to find one and it was lovely! Perfect!

Thanks for being so easy going and friendly through the whole thing. More than happy to write a proper review for you if you need one 🙂 But just wanted to pass on all the thanks to you here first!