About Us & Our Wood Fired Oven.
What can it do?
Wood fired ovens are so versatile, with so many different foods that can be cooked, we really do need to chat through your ideas, please give us a ring.

Yes we can do pizza….and not just your plain old Margarita (even that cooked in this type of oven invariably gets a …WOW response!) but there are so many more options. 
Wherever possible we use fresh ingredients and add our own 'twist'. You can then watch the pizzabase be created, topped, cooked and served, all in less than five minutes, WOW!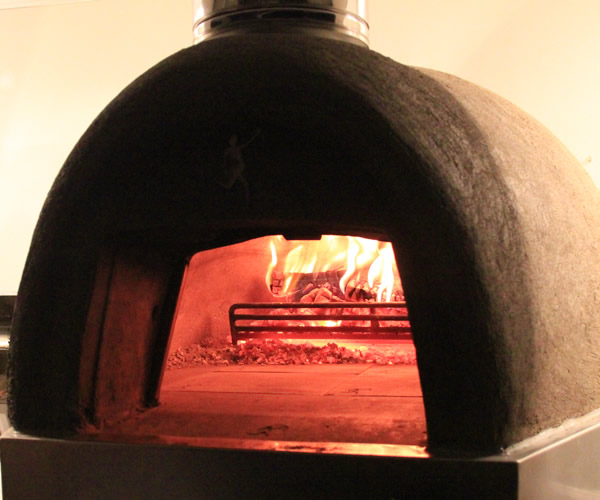 Here are Just a few ideas, to get you thinking…

 Roasted red pepper & goats cheese combine to create a pleasurable mouthful….the watercress and rocket added after cooking add 'WOW' to the whole eating experience.​

 A sweet potato number – this has to be tried to be believed. A clue to the rest of the ingredients is that we finish it off with fresh coriander leaves!

 Traditional flavours e.g. Rustica (Artichoke hearts), Capricciossa (Olives, ham and mushrooms), Pepperoni (need I say more?)
Pizzas with cheese or without cheese, with a tomato base or without….call us.
I think Fish cooks beautifully in our oven, or what about pies, in truth it can do just about anything…we need to talk.
How long does it take ?
A wood fired oven can cook in a number of ways. The oven can be up to temperature within 60 minutes depending on what is required.
Generally we would like to be with you two hours before you want us to serve. 
Pizza needs a hot floor and flames 'rolling' over the oven roof to give you a fantastic 'crunch' and ensure your food is cooked NOT incinerated! We can cook our traditional Neapolitan style pizza in just over a minute due to the heat of the oven floor and air temperature.

Fish needs a high heat to seal the flavour in, we don't want the flames. We can cook fillets of fish in a tray with our own prepared spiced potatoes for our version of oven fish & chips. The fish will cook in less than ten minutes.

Whole joints of meat or a chicken obviously take longer.  
What we need & what we bring.
We provide water (but may need more dependent on event) and can provide electricity via a super silent generator BUT we prefer to 'hook up' to mains electric whenever possible. (Power is solely for the fridge, water pump and lights.)
Access. The trailer is 12′ long and 4'6″ wide, very manoeuverable but we need to be more or less on level ground.
We provide trained and certified staff and disposable plates, napkins and bins (unless you request a more formal eating style which we are happy to discuss.)
We can provide covered area options e.g. gazebo and canopy (but have contacts with a number of Marquee companies locally if a larger area is required.)
We can set up outside a wedding marquee for that late night 'supper' and no one need know we are there until you are ready 'WOW'!
At a smaller private event we can provide canapes while the oven is heating.
The Geeky bit!
A Wood Fired Oven mounted onto a trailer needs to have been built in a very special way.
The reinforcing, refractory and building of our type of oven has been developed over ten years by craftsmen here in England. (I have a fixed oven at my home and have been using it for years,
I KNOW what this type of oven is capable of. I will be happy to give you details of the man who makes them.)
We only use reliably sourced hardwood, which invariably is from a local supplier. Due to the design of this oven it has DEFRA approval and complies with the UK Regulations for Smoke Control.